BMW Service
At JE Robison Service our technicians are trained and equipped to perform any service or repair on your BMW. As an authorized Bosch Car Service Center, we have all the latest tools and service manuals for your car — even if it's only a few months old.
If you're thinking about buying a car don't forget our pre-purchase inspections. You might also want to read about our own unique car buying program. program.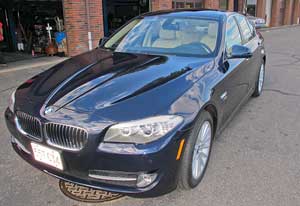 In addition to performing all regular maintenance we are also equipped to do any electronic reprogramming and reconfiguration. If your BMW is more than a few years old, chances are, there's updated software available. It's a strange concept — the idea that cars need software updates — but it's true. A modern BMW has more than 50 computers, each of which can be updated several times in the car's life.
We're also expert at major repairs. We're skilled at electrical troubleshooting, air conditioning work, and drive train repairs. Our Bosch-certified BMW technicians spend two weeks each year training on the newest systems, and our staff is backed up by the technical resources of Bosch, BMW's largest system supplier.
Have technical questions about your BMW? Look for us on the BMW Car Club forums.
Technical Consulting
We're members of the BMW, Mercedes Benz, Land Rover, Porsche, Rolls Royce, and Bentley car clubs in New England. We're Tech Inspectors for Porsche Club and Track events throughout New England.