Audi service department
At JE Robison Service our technicians are trained and equipped to perform any service or repair on your German car. We specialize in Audi, BMW, Mercedes, and Porsche vehicles. Our shop has all the latest tools and service manuals for your car — even if it's only a few months old.
If you're thinking about buying a car don't forget our pre-purchase inspections.You might also want to read about our own unique car buying program.
We can perform all scheduled service work on newer, in-warranty vehicles. Whether you own or lease your car we're ready to provide the best service.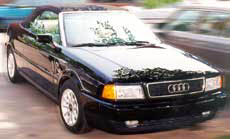 In addition to performing all regular maintenance on older cars we are also expert at major repairs. We're skilled at electrical troubleshooting, air conditioning work, and major drivetrain repairs.
If you're looking for more power from your Audi, BMW, Porsche, or VW —we install Autothority performance chips and air mass meters. We also fit a wide range of other performance accessories.
Technical Consulting
We're Tech Inspectors for
Porsche Club
events in New England. Most of these events are run by the
Connecticut Valley Region
of the PCA.
We're also tech consultants for the Mercedes Benz Club.